A beautiful smile
It often starts with having well aligned and contoured gums. We achieve this with periodontal cosmetic surgery, if the patient requires it.
It consists of a small painless intervention together with a relaxation of the area to be treated so that the surgery becomes comfortable.
A simple intervention that creates harmony and enhances the gingival and dental beauty of the smile.
This is the minimally invasive and practically painless surgical technique we use to cover gingival recessions.
This technique allows us to achieve sometimes spectacular results and allows us to restore gingival harmony, health and also aesthetics.
Find out more about recessions, what causes them and how we can prevent them.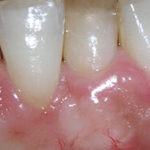 Some patients consult us because their teeth are too small or because when they smile they show too much gum.

Is it possible to improve the smile in these cases?

Of course, sometimes teeth appear smaller than they are because part of the crown of the tooth is covered by gum.

In these cases, a small operation removes the excess gum from the teeth, giving a more harmonious and proportional appearance to the smile.

Other times it is a single tooth that has lower gums, creating disharmony in the smile.  In these cases, crown lengthening is the ideal solution, a small operation that is practically painless and with a very good post-operative period, improving and harmonising the smile.